The Pre-1941 Triumph Motor Cycle Pages
---
From Peter Cornelius - Triumph Specialist for the VMCC - of Britain.
---
<!td rowspan=1>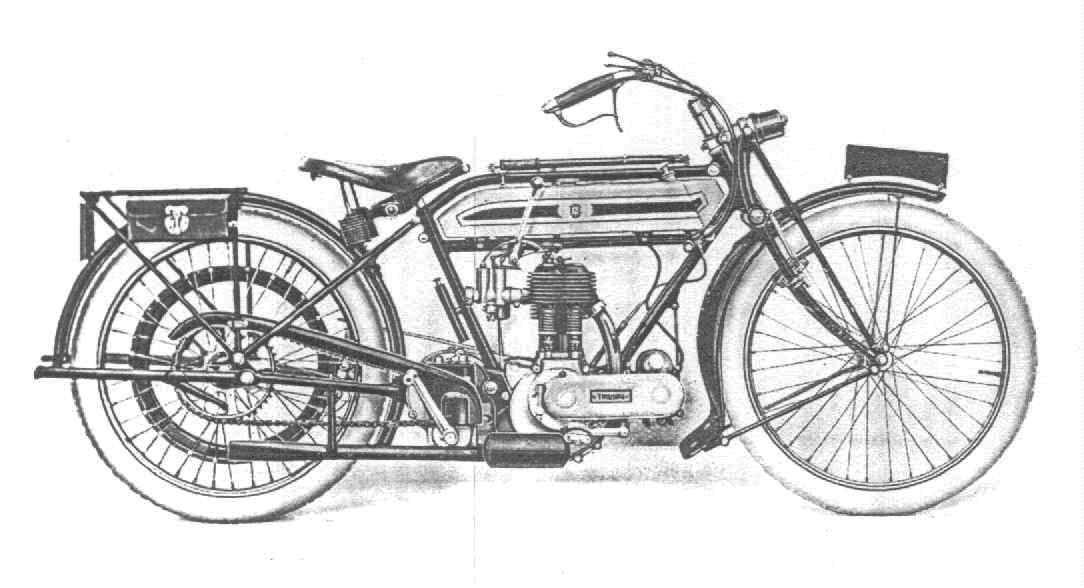 <!CENTER>
The first year - a 1920 Model

Introduced for 1920 the Model SD was basically an all-chain driven Model H. The engine was the same but drove Triumph's first own-design gearbox, which was not particularly successful. The belt-drive Model H continued to be made for those who still preferred the more smooth riding with a belt to take up 'engine snatch'.
The Model SD solution to reduce engine snatch was to have a large, spring-like mechanism built into the clutch assembly. Hence the SD stood for Spring Drive. This had been designed by an Edward Middleton, and interestingly he doesn't appear to have designed anything else for Triumph!
Throughout its production years the Model SD underwent many changes, from cycle-style stirrup front brake to twin shoe, different fuel tanks, a repositioning of the gearchange lever, many different styles of front mudguard, and in its final year was fitted with an external Pilgrim oil pump to obviate the necessity to give a hand pump operation every ten miles.
The Model SD was Triumph's top-of-the-range, and most expensive, model when it was introduced. At £110 it was £18 more expensive than the Model H, which was quite a few weekly wage packets. Thank goodness for the 'never-never' monthly payment option.
Despite the high cost the Model SD sold well, for with the more positive all-chain drive it had the power to haul Triumph's heaviest sidecar, and from period pictures it would appear that mother-in-laws were quite 'hefty' in those days. (Poor wifey had to take the pillion seat.)


Brief Specifications and Variations
Catalogued for the years 1920 to 1927.

A very solidly built machine.

550cc side-valve, 85mm bore X 97mm stroke.

Triumph's own (first) 3-speed gearbox.

Chain drive to gearbox, and then also chain to rear wheel.

Popular as a solo mount, but really came into its own when coupled with a sidecar and used as family transport.

Although the engine was basically that used for the Model H the engine for 1920 had a stronger big-end and there were changed cam profiles.

Fuel tank changes meant that its capacity increased from 1½ gallons to 2 gallons, and there were two types of the latter.

As the engines were shared by Models H and SD, and the numbers also were used by the later, concurrent, Models R it is not possible to be specific regarding Model SD production. However, it was something in the order of 16,000.

Models SD still survive in Australia, Brazil, Britain, Germany, Holland, Hungary, Ireland, Italy, Kenya, New Zealand, Norway, the Republic of South Africa, Sweden, Switzerland and Tanzania (was originally in Malawi, previously Nyasaland).

For more details, technical information, performance figures, and much more, you really need to refer to the booklet I have written covering these models.





Booklets




Jump Back to
the Beginning




Return to
Vintage Index