The Pre-1941 Triumph Motor Cycle Pages
---
From Peter Cornelius - Triumph Specialist for the VMCC - of Britain.
---
<!td rowspan=1>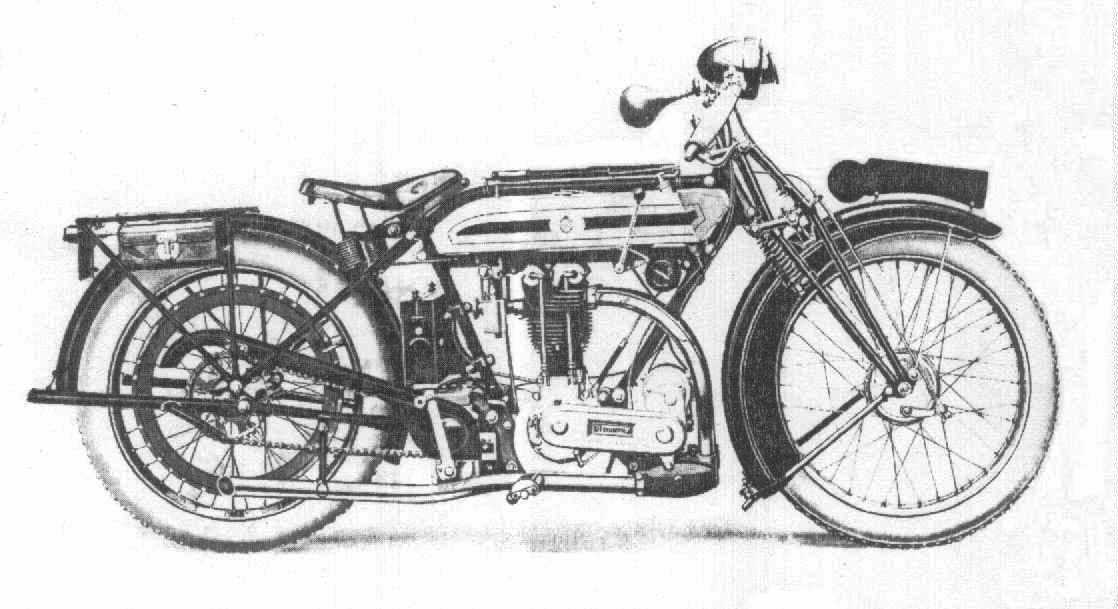 1924 Model

Gifted engine designer Major Frank Halford joined Harry Ricardo's internal combustion research engineering company after World War One. In his early days with the company he raced side-valve Triumphs, and with his knowledge and the facilities he had access to at Ricardo Engineering he designed a bronze alloy 4-valve cylinder head and turned up a suitable cylinder from a solid steel billet. With a light aluminium pistion he fitted these, in 1921, to his new all-chain drive Triumph Model SD.
With this over-head 4-valve engine he was an easy winner in races against larger capacity engined machines.

The Triumph Cycle Company had never had an over-head valve engined model and took a great interest in Halford's machine. They approached Halford and Ricardo with a view to introducing such a machine into the Triumph range. The result was the announcement of the Triumph Model R (R for Ricardo) for the 1922 season.
There were, however, major differences between Halford's 4-valve cylinder head and that manufactured by Triumph and fitted to their Model SD frames. Possibly there were manufacturing difficulties, or possibly Patent restrictions, or even cost considerations, but whatever, although affectionately referred to by owners as 'Riccies', Triumph's engines were only 'Ricardos' by being of 4-valve design.
Triumph raced these ohv engined Model SDs in the 1921 Isle of Man TT Races but were out performed by their own side-valve machines, one of which broke the lap record, and for the first year the Senior Race was won by a 350cc machine!
Frank Halford, meanwhile, broke speed records at Brooklands with his machine.

Triumph Works rider Walter Brandish said that the 4-valver was capable of going faster than he was prepared to go, and there lay the problem with the Model R in both race and roadster forms.
The road speed limit at that time in Britain was still 20mph so frame and fork design was never really a consideration. Even the initial fitting of the cycle-style stirrup front brake was acceptable. The Model SD was a good solo machine and a great sidecar hauler, but almost anything could be ridden at 20mph. One owner of a Model R has described its handling as being like riding a garden gate with a hinge in the middle, and I guess that even such a garden gate would be controllable at 20mph. Therein lies the problem with the Model R under today's riding expectations.

Seen as a sporting machine the Model R was initially sold as not being suitable for sidecar use, and yet by 1924 it appeared on the cover of Triumph's sales catalogue coupled to a sidecar!

For its final year the Model R was fitted with an externally mounted Pilgrim oil pump and it became the Model IR. I've no idea the significance of the I.


Brief Specifications and Variations
Catalogued for the years 1922 to 1927.

A good engine but with compromised handling due to the Model SD frame.

499cc 4-valve overhead-valve, 80.94mm bore X 97mm stroke.
The stroke of the Model SD was retained, probably to reduce costs.

Triumph's 3-speed gearbox, as the Model SD.

The same Spring Drive clutch mechanism as the Model SD.

Popular as a solo mount for those who had no regard for the country speed limit.
A sports sidecar was produced for use with the Model R but I don't know how well it might have sold, for I know of none having survived.

A twin shoe front brake replaced the original cycle-style sturrup brake for 1924, but the dummy belt-rim rear brake stayed to the end.

As the Model SD, fuel tank changes meant that its capacity increased from 1½ gallons to 2 gallons, and there were two types of the latter.

As the engine crankcases were shared by the concurrently produced Models H, SD, and R with undefining numbers, it is not possible be be specific regarding Model R production. However, it was something in the order of 6-7,000.

Models R, or parts thereof, still survive in Australia, Britain, Bulgaria. Canada, Germany, Holland, Hungary, Italy, New Zealand, Norway, South Africa, Switzerland and Uganda.

For more details, technical information, performance figures, and much more, you really need to refer to the booklet I have written covering these models. (And maybe also the 'Racing Years 1921-1928' booklet.)





Booklets




Jump Back to
the Beginning




Return to
Vintage Index