The Pre-1941 Triumph Motor Cycle Pages
---
From Peter Cornelius - Triumph Specialist for the VMCC - of Britain.
---
<!td rowspan=1>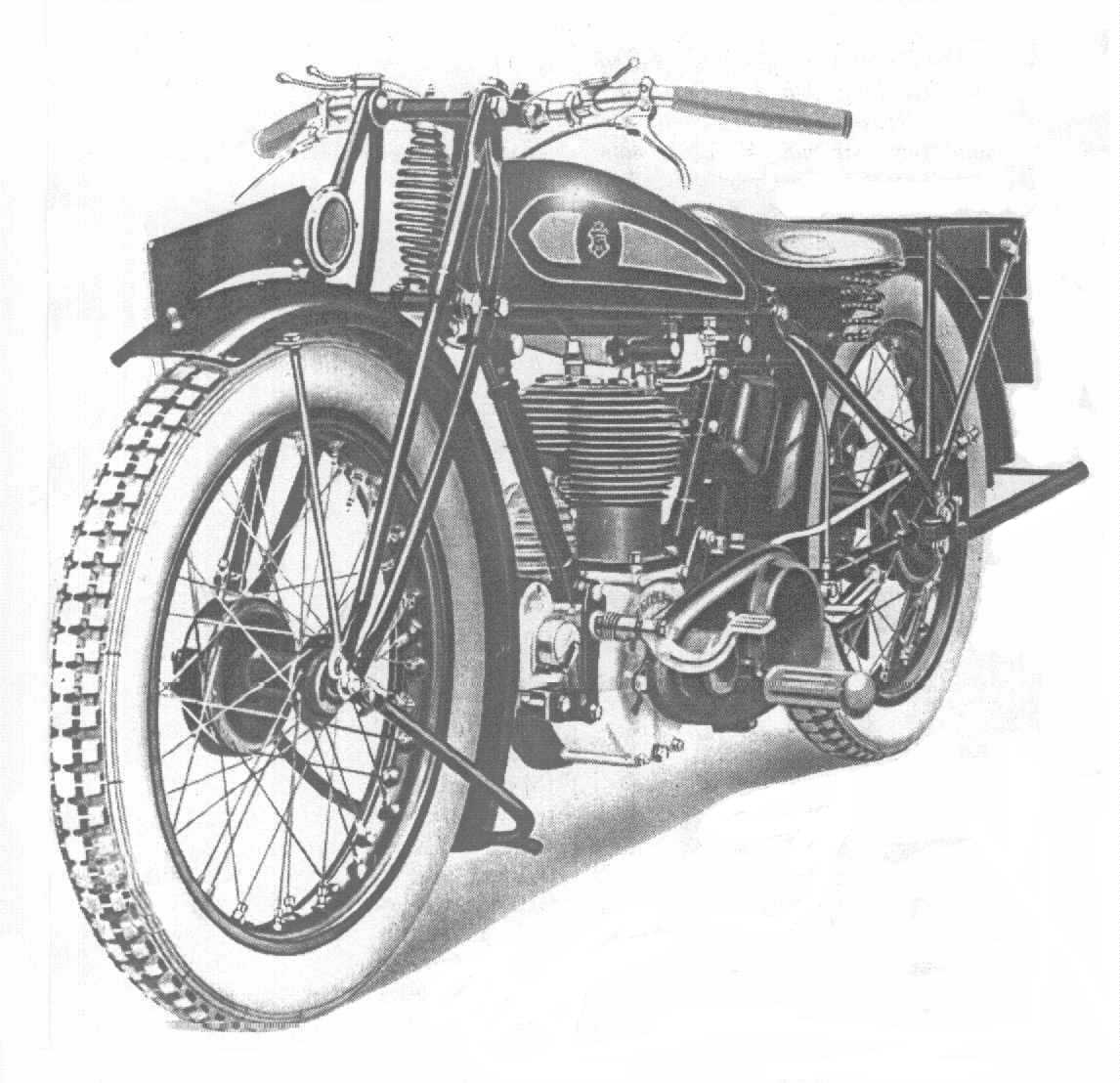 The original 1928 Model N de Luxe

There is sometimes confusion regarding the N de Luxe name, for initially the 1927 Model N was advertised with the 'de Luxe' added, but this was dropped for this REAL 'de Luxe' model was to follow for 1928.
The progression from the very successful Model P, through the Model N to the Model N de Luxe was logical.
1928, and it was time for a further 'modernisation'. This was very apparent. The old flat tank was replaced by a saddle tank - Triumph's first, and only for 1928 - and it held only petrol. A separate oil tank was fitted on the saddle down-tube and there was a heel-operated auxilliary pump for those who did not trust the automatic pump in the crankcase. (Lubrication was still 'total loss' and the crankcase pump simply drip fed oil to the crankcase to compensate for that lost via the inefficient leather oil seals or burnt off by getting past the piston rings into the combustion chamber.)
For the saddle tank the whole frame was redesigned and was much lower than the previous flat-tank models, and the rider sat much lower.
Another major change was that for 1928 Triumph changed from the long-used (since sometime during 1913) French Grey with Brunswick Green panels, to a Black tank with pale blue panels.
In April 1928 the slim-line fuel tank was replaced by a slightly more 'bulbous' one, and in October the name was abbeviated to simply Model NL.


Brief Specifications and Variations
Catalogued for 1928 and 1929.

494cc side-valve, 84mm bore X 89mm stroke.

3-speed Triumph gearbox.

All-chain drive.

Very popular as a solo mount, or with a sidecar.
With a much lower riding position the Model N de Luxe could be ridden in a more 'sporting' manner. (Although the speed limit in Britain was still 20mph!)
A very practical mount for lady riders or the 'height disadvantaged'.

Fuel capacity 2½ gallons, oil 3½ pints.

Production of 1928 Models N de Luxe and NL in the order of 5,300.
Production for 1929 probably less than 100 machines, for sales were overshadowed by a totally new range with recirculating oil lubrication.

Despite the relatively low production the Models N de Luxe and NL were very popular, especially overseas and many still survive, or parts thereof, in Australia, Brazil, Britain, Czech Republic, Finland, Germany, Holland, Italy, Israel, Norway, South Africa, Sweden and Switzerland.

For more details, technical information, performance figures, and much more, you really need to refer to the booklet I have written covering these models.





Booklets




Jump Back to
the Beginning




Return to
Vintage Index