The Pre-1941 Triumph Motor Cycle Pages
---
From Peter Cornelius - Triumph Specialist for the VMCC - of Britain.
---
| | |
| --- | --- |
| Model 2/1 | Model 3/2 |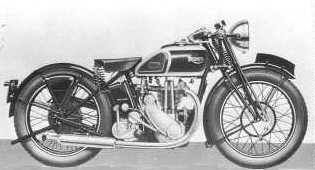 Model 5/5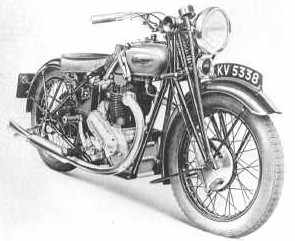 Model 6/1

Triumph hadn't really had a motor cycle designer since Charles Hathaway died in 1915, and those designed by members of the car design team were not as successful as they might have been. Arthur Sykes had been responsible for the new range for 1931 and although very smart in appearance there were problems with the oil pump.
So with a vacancy for a designer Val Page transferred from Ariel, and by 1934 a very successful engine appeared. (Unfortunately the bikes themseves lacked 'lustre' and it was up to a later designer to sort that out and really make them capture the public's imagination.)

The new 1934 models covered the range from 250cc through to a twin-cylinder 650cc model and went by the most unimaginative identies as the 2/1 (two-stroke-one) through to the 6/1, where the initial number gave a rough indication of the capacity, and the following number was simply a number in that capacity range. For example, 5/1, 5/2, 5/3, 5/4 and 5/5 but it didn't really tell a prospective purchaser that the 5/1 was a 350cc side-valve machine, while the 5/5 was the top 500cc overhead valve model in that range, although it was also classified as a 'Mark V'. (Roman numeral 'five') Fine numbers for production workers, but how could an owner impress his friends by saying that he had a "Five stroke Four", for example.

With some models added and others dropped, these x/y models continued through to 1936, by which time Vivian Holbrook, who had taken control of the company, had totally lost interest in motor cycles and Triumph motor cycle manufacture would have ceased had it not been purchased to trade as a different Triumph company; but you need to read my 'Triumph Story' booklets to learn how the original Triumph Cycle Company ended up in such a mess.


Brief Specifications and Variations
<!P>The eleven 1934 Val Page Models were;
<!br>2/1 and 2/5, 249cc ohv. 63mm bore X 80mm stroke.
3/1, 343cc side-valve. 70mm bore X 89mm stroke.
3/2 and 3/5. 343cc ohv. 70mm bore X 89mm stroke.
5/1, 549cc side-valve. 84mm bore X 99mm stroke.
5/2, 5/3, 5/4 and 5/5. 493cc ohv. 84mm bore X 89mm stroke.
6/1. 649cc ohv Twin. 70mm bore X 84mm stroke.
The 2/1 and 3/1 Models had 3-speed gearboxes, while all others had 4-speed boxes, and some had and add-on footchange attachment and for others it was avaibable as an extra charge option.

The 650cc Model 6/1 twin was intended as a sidecar hauling machine.

The 1935 range was increased by two; one at each end of the scale and of special performance.
At the bottom end of the range the new model was the L2/1 (Lightweight 2/1). The Model 2/1 had an excellent performing engine, but the frame and 'tinware' was somwhat heavy, for it was shared with the 350cc models. So this lightweight 250cc model was introduced. It was well received, but must have been a financial loss to the company, for while there was a great deal of shared components across all models, almost everything of the L2/1 was specific to that model and what's more it was priced significantly less than the Model 2/1!
At the other end of the range was a 500cc ohv model, specifically sold as a 'racer'. This was the Model 5/10, or Mark 10.

The new owner of the Triumph motor cycle side of the business said that 1936 production would continue as already announced. The 1936 range had already been rationalised, with the discontinuance of the Models 2/5, 3/5, 5/3 and 5/4, which brought the range down to nine. This was to be further modified in April with the introduction of another designer!

I do not currently have enough details from surviving machines to be able to give an approximate figure for the production of individual models. Codes indicating month and year of assembly were discontinued, and while the 'model year' was indicated with an engine number that does not indicate when it was assembled, for 1935 'models', for example, were starting to be assembled from around August or September 1934.
Therefore at this time the approximate figures which I have need to be 'refined' before I can release any figures.

The have knowledge of these Val Page Triumph models surviving in Australia, Britain, Denmark, Germany, Holland, Ireland, Italy, Malta, New Zealand, Norway, South Africa, and the USA.



Jump Back to
the Beginning

Return to the
Post-Vintage Index<!/left>