The Pre-1941 Triumph Motor Cycle Pages
---
From Peter Cornelius - Triumph Specialist for the VMCC - of Britain.
---
<!br />
| | |
| --- | --- |
| 1938 Model 3S | 1938 Model 3SE |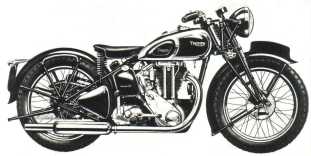 1938 Model 5H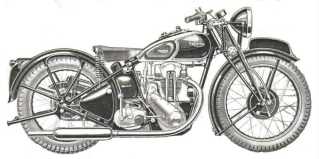 1939 Model 2H

For 1937 Edward Turner had significantly and sensibly rationalised Val Page's machines. In addition to the three Tigers there were three similar models of the same engine capacity, but with lower compressions and less 'sparkle'. These were designated 2H, 3H and 5H, indicating engine capacity and overHead valves.
The 650cc Model 6/1 was discontinued and was replaced by a long-stroke 600cc Model 6S for sidecar riders. Again an indicated engine capacity and S for Side-valve engine.
It has been said in many books (authors tend to repeat each another's material without checking the facts), that Turner scrapped the Model 6/1 because it sold poorly and he wanted his forthcoming Speed Twin to be THE twin. Certainly, he had plans by this time for the Speed Twin which was announced in late 1937, but the Model 6/1 had earnt quite a good reputation as a powerful machine for sidecar use, and sold in greater numbers that some would have you believe.
I think it would be closer to the truth to say that it was very different to all the other Val Page machines, and would therefore require more specific machining attention and would have been more expensive to manufacture than could be profitably reclaimed on the sale price. Remember, that Vivian Holbrook, the previous Managing Director, had no business skills for making profit and specifically had no concern for motor cycle manufacture, while Turner was obviously presented with the task of returning Triumph motor cycle manufacture to profitability, for its new owner. Hence this sensible rationalisation of the models for 1937.
The final model in the 1937 range was the Model 3S, a low cost, low maintenance, reliable 350cc side-valve machine for taking its owner to work and back each day.
So without great development expense Val Page's engines covered the requirements of any potential owner, from that ride-to-work model through to the sidecar family man, while also catering for the more sporty riders, with (a Tiger) or without (the cheaper H models), good Bank balances.

These models continued through to 1940, while also being added to by coil-ignition models and more 'basic' models to satisfy requests from Triumph's largest export market - Australia and New Zealand.

The 1938 range saw the introduction of Turner's 5T 500cc Speed Twin, which of course over the years spawned a whole new range of twins, but I'll not elaborate on it here as so many books and websites are available with so much more information on those.


Brief Specifications and Variations
In addition to the Tiger Models Triumph's 1937 range was;
Model 2H. 249cc ohv. 63mm bore X 80mm stroke. 13 bhp at 5,200 rpm.
Model 3H. 343cc ohv. 70mm bore X 89mm stroke. 17 bhp at 5,200 rpm.
Model 5H. 493cc ohv. 84mm bore X 89mm stroke. 23 bhp at 5,000 rpm.
Model 3S. 349cc s/v. 70mm bore X 89mm stroke. 12 bhp at 4,800 rpm.
Model 6S. 597cc s/v. 84mm bore X 108mm stroke. 18 bhp at 4,800 rpm.
All models, even the side-valvers, were designated as 'de Luxe' and had chrome petrol tanks with gold lined plum coloured side panels.

All had 4-speed, foot-change gearboxes.

Electric lighting was now standard, and a rear brake light was an optional extra, along with a number of other optional fittings.

Alternative engine sprockets were available for the Models 5H and 6S as these could quite capably haul a sidecar.

The 1938 range added the coil-ignition models 2HC and 3SC, and the Export Edition of the catalogue also included the 3SE, where the 'E' stood for 'Export only'.
This 'export only' model had just a plain black tank with no instrument panel. It was described as "... the specification although comprehensive has been carefully considered and all features of doubtful value have been eliminated." It was just a basic reliable machine, which was all that was needed for rounding up sheep over large areas of bush. (Plus they were AŁ20 cheaper, and farmers are always pleading poverty!)
The 1938 catalogue, of course, also included the new 5T Speed Twin.

The 3SC was dropped for 1939 but a further side-valve model was added, the 5S, and the T100 sports version of the Speed Twin I have mentioned on the 'Tigers' page of this site.
A further basic side-valve model, the 493cc Model 5SE, was added for the Export market.

Triumph produced a 'limited availablity' catalogue for 1940 and the coil-ignition models were dropped but the reduced specification 'Utility' Models 3SE and 5SE were listed in the Home-Market catalogue.

I do not currently have enough details from surviving machines to be able to give an approximate figure for the production of individual models. Codes indicating month and year of assembly had been discontinued, and while the 'model year' was indicated with an engine number that does not indicate when it was assembled, for 1938 'models', for example, were starting to be assembled from around August or September 1937.
Therefore at this time the approximate figures which I have need to be 'refined' before I can release any figures.

I currently have knowledge of these 1937 to 1940 models surviving in Australia, Britain, Cyprus, Germany, Holland, Poland, New Zealand, Norway and the USA.





Jump Back to
the Beginning

Return to the
Post-Vintage Index

<!/left>