The Pre-1941 Triumph Motor Cycle Pages
---
From Peter Cornelius - Triumph Specialist for the VMCC - of Britain.
---
| | |
| --- | --- |
| 1936 twin down-tube Tiger 90 | 1937 Tiger 70 |
1939 Tiger 70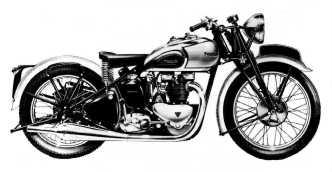 1939 Tiger 100 Twin

Jack Sangster, the owner of Triumph motor cycles from January 1936, moved Edward Turner across from Ariel, along with Bert Hopwood as Chief Draughtsman, in order to get something done to boost Triumph's flagging product line and sales figures. Val Page had produced good engines, and Turner acknowledged this, but they lacked the 'eye appeal' to attract customers.
With no time to design anew, and not really necessary as the 'basics' were good, Turner set to in providing that 'eye appeal' and also in providing a meaningful name. Thus, with small 'tinware' changes and 'shell blue sheen' replacing the drab black, by April Turner had three new models on the road for testing. The Model L2/1 became the Tiger 70, the Model 3/2 became the Tiger 80 and the Model 5/5 became top of the range Tiger 90. (The numbers gave an indication of their top speeds.)
Initially the original twin down-tube frames were used, and even the engine numbers continued their sequences, but with an addition to indicate that they were fitted to a Tiger.
With time to make further improvements later models were given more sporting looking single down-tube frames and further 'tinware' improvements were made, and these three models continued through to 1939, being joined in their last year by a further 500cc Tiger model - the Tiger 100 Twin of 1939.

For the full story of how Triumph motor cycle manufacture came to be changed from the original Triumph Cycle Company to Jack Sangster's Triumph Engineering Company you need to read my 'Triumph Story' booklets.


Brief Specifications and Variations
<!P>The four Tiger Models were;
<!br>Tiger 70. 249cc ohv. 63mm bore X 80mm stroke. 16 bhp at 5,800 rpm.
Tiger 80. 343cc ohv. 70mm bore X 89mm stroke. 20 bhp at 5,700 rpm.
Tiger 90. 493cc ohv. 84mm bore X 89mm stroke. 28.29 bhp at 5,800 rpm.
Tiger 100. 498cc ohv Twin. 63mm bore X 80mm stroke. 33-34 bhp at 7,000 rpm.
All had 4-speed, foot-change gearboxes.

Electric lighting was now standard, and a rear brake light was an optional extra, along with a number of other optional fittings.

There was no alternative engine sprocket listed for the Tiger 70 and 80 Models as these were not considered of sufficient capacity for hauling a sidecar.

I do not currently have enough details from surviving machines to be able to give an approximate figure for the production of individual models. Codes indicating month and year of assembly were discontinued, and while the 'model year' was indicated with an engine number that does not indicate when it was assembled, for 1938 'models', for example, were starting to be assembled from around August or September 1937.
Therefore at this time the approximate figures which I have need to be 'refined' before I can release any figures.

The have knowledge of these Val Page Triumph models surviving in Australia, Britain, France, Holland, New Zealand and South Africa.



Jump Back to
the Beginning

Return to the
Post-Vintage Index<!/left>