The Pre-1941 Triumph Motor Cycle Pages
---
From Peter Cornelius - Triumph Specialist for the VMCC - of Britain.
---
<!td rowspan=1>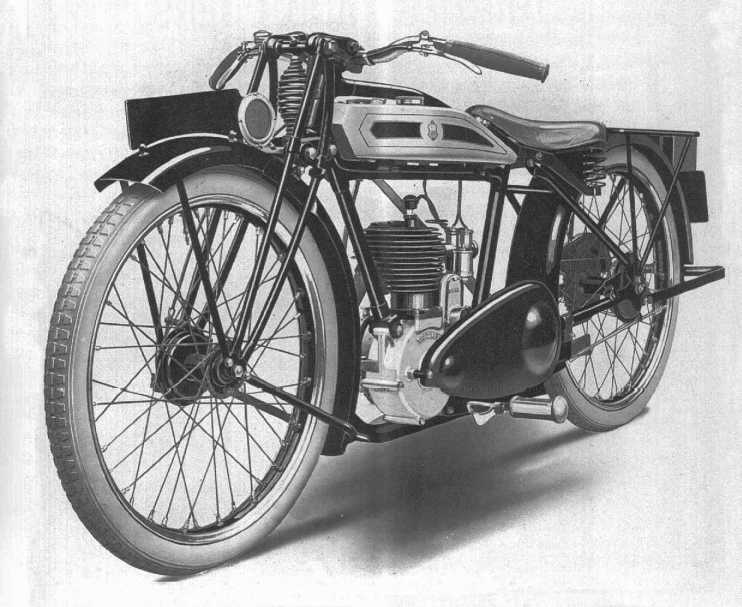 The 1927 Model W




The very popular and long produced two-stroke Model LW (Junior/ Baby) was outdated and had been discontinued. However, it had shown that there was a requirement for a lightweight small capacity machine in the Triumph range. Thus for the 1927 season the 277cc Model W de Luxe was announced. The 'de Luxe' was soon dropped (for aren't all Triumphs 'de Luxe'!) and it became known simply as the Model W.
The unusual 277cc, as opposed to the more common 250cc, came about due to a law at that time in Britain which gave a 30 shillings (£1-50) annual road tax for motor bicycles weighing under 200 pounds, and this was achieved with a larger than 250cc engine but limiting it to 277cc. (Without lighting the Model W weighed in at 195 pounds - but with lamps, horn, petrol and oil was 220 pounds - but someone must have forgotten to mention that to the authorities!)
As with the 1927 Model N an oil pump was built into the crankcase for 'semi-automatic' lubrication, but for those who did not trust this "new fangled" device a hand pump was fitted in the tank for manual lubrication. It wasn't really necessary but the hand pump was useful to 'prime' the crankcase when it was drained. Lubrication was still 'total loss' and the automatic crankcase pump simply drip fed oil to the crankcase to compensate for that lost via the inefficient leather oil seals or burnt off by getting past the piston rings into the combustion chamber.
Right up to date, the forks were of the Webb-style single spring and the rear brake was of internal twin-shoes. Also new on 1927 models were wired-on tyres.



<!H3><! - remove - Some Notable Makes of Cyclemotor><!/H3>
Brief Specifications and Variations
The Model W was catalogued for 1927 to 1929, and with a saddle tank replacing the flat tank the Model WS was catalogued for 1929 and 1930.

277cc side-valve, 66.5mm bore X 80mm stroke.

3-speed Triumph gearbox.

All-chain drive.

Popular with those who were not enthusiastic about motor cycles but required cheap, reliable, short distance transport. These would have included Church Ministers, Midwives and the more elderly. (Where's my Model W!)
The Model W was also popular amongst schoolboys whose wealthy fathers would buy them a motor cycle. The minimum age for riding in Britain at that time was 14.

Definitely underpowered for hauling a sidecar!

Fuel capacity 1½ gallons, oil 2 pints.

Total Model W and WS production approximately 10,000.

Models W and/or WS, or parts thereof, still survive, or discovered, in Australia, Britain, Canada, Finland, Holland, Italy, New Zealand, South Africa and Zimbabwi (Southern Rhodesia).

For more details, technical information, performance figures, and much more, you really need to refer to the booklet I have written covering these models.



Jump Back to
the Beginning

Return to
Vintage Index