The Pre-1941 Triumph Motor Cycle Pages
---
From Peter Cornelius - Triumph Specialist for the VMCC - of Britain.
---
<!td rowspan=1>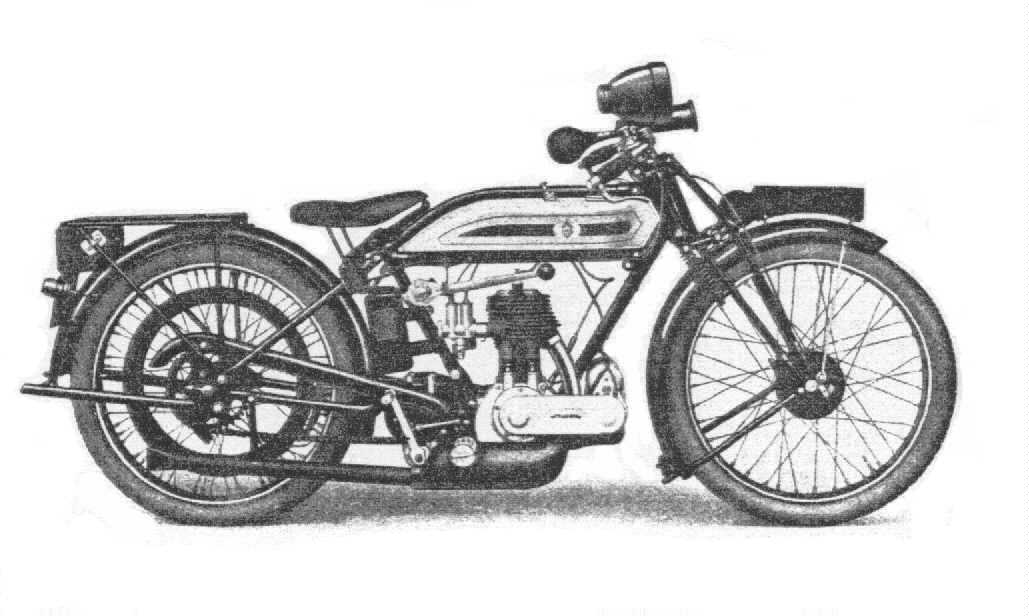 The 'improved' 1925 and 1926 Model




The Model P was the machine which saved Triumph at a time when they were in serious financial difficulties. Using the successful maxim that, "It's better to sell five at one pound profit on each than to sell two at two pounds profit on each", the Model P was unveiled on the opening day of the 1924 Motor Cycle Show. At just £42-17-6 (£42-87½p) it seriously undercut the machines of many other manufacturers; one of whom said that the cost of the parts alone was in excess of that being asked for a 'ready for the road' Model P.
Despite it's low price the Model P was not a shoddily made poorly performing machine. Certainly, new ideas for clutch and front brake were not initially as good as they might have been, but no corners were cut regarding quality of finish. There was (expensive) nickel plating in all the expected places and the reliability and performance was as would have been expected of any side-valve motor cycle at that time.
Although the deficiencies of brake, clutch and 'weakish' front forks were recognised very early on - in fact both magazine road testers commented unfaverably on the front brake - as these machines were priced to produce very little profit (probably less than the pound mentioned above) Triumph needed to sell 20,000 before they met their costs. However, at that price, despite the front brake, they sold 'like hot cakes' and it wasn't long into 1925 that Triumph were producing over 1,000 a week, and as many as they could make were being sold. (The rear brake was good due to its large diameter, and in those days the rear brake was considered to be the main brake, anyway.)
The Model P became an 'improved model' at the end of July 1926, and this continued unchanged into 1926.



<!H3><! - remove - Some Notable Makes of Cyclemotor><!/H3>
Brief Specifications and Variations
Catalogued for the years 1925 to 1927, with 1927 models only sold on the home market.

A sporting specification model was announced in mid-April 1926 as the Model Q, but a Pilgrim pump lubrication version was available before this for the export market. This was known as the Model QA, of which there was also a later machine of the same name, so I refer to this one as the QA-1.

494cc side-valve, 84mm bore X 89mm stroke.

3-speed Triumph gearbox.

All-chain drive.

Popular as a solo mount, or with a sidecar.
'Everymans' machine, for transport to work or weekend pleasure riding.

Fuel capacity 1¾ gallons, oil 2 pints.

Approximate production was 55,500, but this includes Models N of 1927, which shared the same engine number series.

Models P, Q and/or QA-1, or parts thereof, still survive in Australia, Belgium, Britain, Canada, Czech Republic, Germany, Holland, Hungary, Italy, Lithuania, New Zealand, Norway, Southern Rhodesia (Zimbabwe), Sweden, Switzerland and the USA.

For more details, technical information, performance figures, and much more, you really need to refer to the booklet I have written covering these models.



Jump Back to
the Beginning

Return to
Vintage Index