The Pre-1941 Triumph Motor Cycle Pages
---
From Peter Cornelius - Triumph Specialist for the VMCC - of Britain.
---
<!td rowspan=1>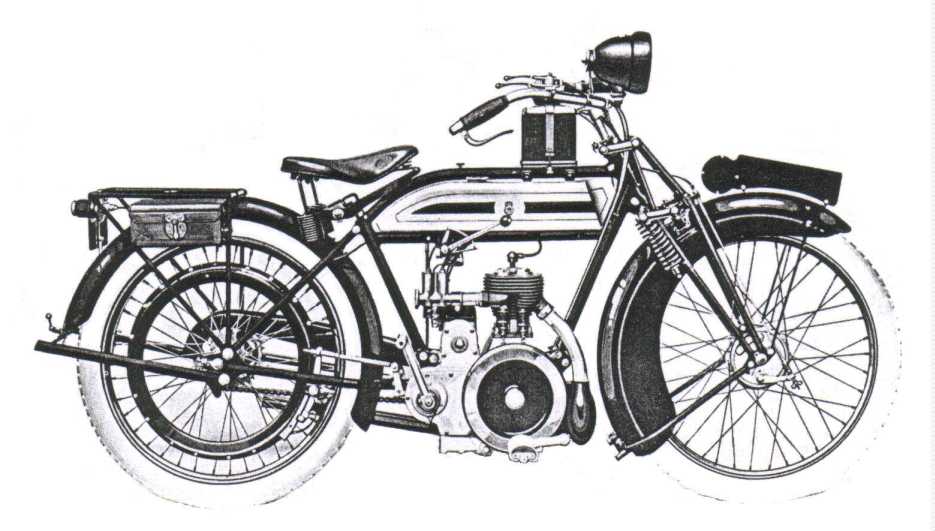 The 1924 Model LS




The Model LS - Light Solo - was something of an anomally because although outwardly looking like a Triumph its design was totally different to any other Triumph model.
It was shown at the 1922 Motor Cycle Show at Olympia and re-announced a year later, but was not available until April 1924. With the death of Charles Hathaway in 1915 Triumph didn't really have a designer and the successive models to the Model H were really just improvements and changes to that machine.
However, Triumph started producing cars in 1923 and Frank Parnell was Triumph's chief designer for those. It is my opinion that it was car designer Parnell who was responsible for the design of the Model LS. This would not only explain the delay in the final design for production (the 1922 Show model probably had no engine internals) for Parnell was busy with the cars, and it would also explain why the Model LS was so different to other Triumphs, and why it attracted few motorcyclist purchasers.
Unlike any other Triumph, or even most other motor cycles at that time, the engine was built very much on car design. It had a lubrication system with the oil in a sump, and its distribution under pressure followed the modern car engine design of the period. Engine and gearbox were as one, with a multitude of gears connecting all. It was also unlike any other Triumph motor cycle in so far as it didn't even drip oil!
With so much concentration on producing a car-like engine little thought was given to the rest of the machine and appears not to have been tested on the road. That seems to have been left to the testers of the two motor cycle magazines, who reported most unfavourably on its unsuitability for use on the road.
The magazine testers both commented on the footrests being too far forward, and due to that the cold wind got under one tester's coat, plus the wide handlebars hit his knees when attempting to turn. The front brake would not hold on a rising slope and a foot had to be lifted from the footrest to operate the rear brake.
Triumph made changes, but if the machine was fitted with electric lighting the original wide handlebars were fitted in order to clear the battery, which being mounted above the tank was surely an after-thought by someone not accustomed to designing a motor cycle.
With availability almost eighteen months after the initial announcement, and road test reports indicating that it was not a pleasant machine to ride, it is not surprising that sales were disappointing. Thus few survive today, but for the engineering quality, alone, one should be considered if there is space in one's garage.



<!H3><! - remove - Some Notable Makes of Cyclemotor><!/H3>
Brief Specifications and Variations
The Model LS was catalogued for 1924 to 1927, but due to the poor sales all appear to have been assembled during 1924.

346cc side-valve, 72mm bore X 85mm stroke.

3-speed, intregal with the engine.

Chain drive to rear wheel. No primary chain necessary.

As mentioned above, it never really 'caught on' and was not the average motor cyclist's type of machine.

Not suitable for a sidecar.

Fuel capacity 2 gallons, with 2 pints of oil in the crankcase sump.

Total Model LS production approximately 2,000.

Models LS, or parts thereof, have survived in Australia, Britain, Czech Republic, Denmark, Germany, Ireland, Italy, New Zealand and Romania.

For more details, technical information, performance figures, and much more, you really need to refer to the booklet I have written covering this model.



Jump Back to
the Beginning

Return to
Vintage Index